'FREE SHIPPING WORLDWIDE
PLACATED BY TREATS
Boy, if the world isn't full of all sorts of unexpected surprises!  At first, we thought that a virtually immortal serial killer who can body hop might be a problem.  And, we suppose it definitely was a problem for a while.  But, nobody could have predicted what happens when the scary goes cute!
Turns out that when an evil spirit accidentally possesses the form of something so squishably cute that you just want to hug it and give it all the treats, that nasty spirit gets pretty cuddly real fast!  Who knew puppers were the fix to all the world's problems!?  (Other than dog owners, of course!)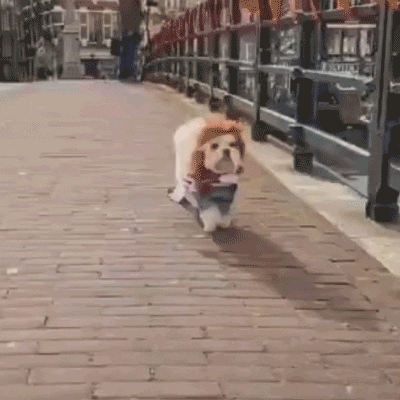 PRODUCT DETAILS
Let your doggo's inner monster run free with this Deadly Doll Costume for your Pup! This half coat and hood is a comfy fit for your pup and has the decorations of a delightful toy doll... except for that slightly suspicious knife he's wielding.  We're pretty sure that's just to help you cut up the bacon bits, though!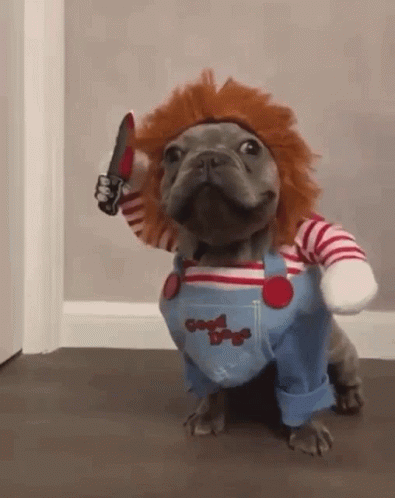 WHO'S A GOOD GUY?
It is very important to remind your pup who's a good boy and girl.  They need to know that kind of thing or they might become susceptible to the prying spirits of crazy killers.  Fortunately, the worst case scenario of possessions is that they hunger for a few extra treats.  You'll have a great time with your little murderer in this Good Dog doll costume.  
100% polyester
Costume has 2 ties for the back side
Headpiece has elastic band
Foam knife has hook and loop fastener that attaches to paw 
SIZE GUIDE
SMALL
| | |
| --- | --- |
| Chest | 16" - 20" |
| Length | 12" |
| Neck | 12"-14" |
MEDIUM
| | |
| --- | --- |
| Chest | 20" - 24" |
| Length | 16" |
| Neck | 14"-16" |
LARGE
| | |
| --- | --- |
| Chest | 24" - 28" |
| Length | 20" |
| Neck | 16"-20" |
The products are shipped out in less than two business days after the order has been passed. We ship always with a tracking number. We ship world-wide and insure your order for 100% of their value. If they get lost, we refund your payment or reship the order. You decide! Shipping usually takes around 2-4 weeks for US customers. For international customers, shipping may take around 2-6 weeks! If you did not receive your item after 30 business days, please advise our client department through the "Contact Us" tab and it will be a pleasure for us to help you out. 
Easy 30 Days Returns
100% Satisfaction Guarantee
Secured & Easy Checkout
Missing/Not As Described: Full Refund
Must Read Description Before Purchasing