Collapsible Dog Water Bowl® is the easiest & fastest way to keep your dog hydrated on the go! Public water bowls can contain harmful pathogens and travel water bowls are messy and an inconvenience to use. Squeeze and water fills the bowl for your pup to drink, release and the remaining water returns to the bottle, not wasting a drop. Now, you can twist the lock in the center of the bowl to render a leak-tight seal, keeping your backpack dry when storing! Comes with a carabiner which can attach to a pack or your belt loop.
Fits auto drink holders
Slightly transparent
Safer than public water bowls
Easy one-handed operation
Saves water
Leak-Tight lock
Food Safe, BPA-free Materials
Patented Design and Function
8.5" tall & holds 22oz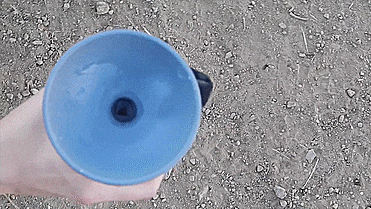 Safe Material
Food-grade safety material: High-Density Polyethylene.

Safe and non-toxic, hence it can safely be used for pets.

BPA Free, no smell, soft material, and recyclable.

The various parts are detachable and easy to clean.

Capacity Tick Mark. (It is convenient for you to provide your pet with the appropriate amount of water according to his/her drinking needs.)
Heat & dehydration related injuries are some of the most difficult for dogs to recover from. The best way to avoid heatstroke in your dog, is to keep fresh water available for drinking. A dog can lose all of its fat & 1/2 of its protein and survive, but a loss of only 10% body water causes serious illness.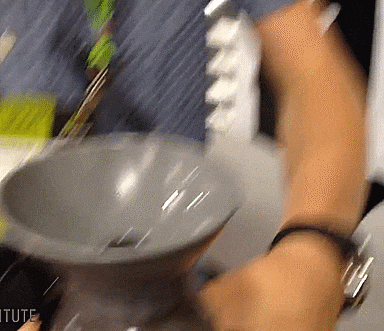 *We recommend squeezing the bottle away from your dog at first. Some dogs are scared of the bubbling noise the bowl makes when filling with water.
Best for: Camping with dogs, Hikers, Roadtrippers
Specs: Holds 22 oz, BPA-free polypropylene
Care:  Top Rack Dishwasher Safe or Hand Wash
The products are shipped out in less than two business days after the order has been passed. We ship always with a tracking number. We ship world-wide and insure your order for 100% of their value. If they get lost, we refund your payment or reship the order. You decide! Shipping usually takes around 1-3 weeks for US customers. For international customers, shipping may take around 2-4 weeks! If you did not receive your item after 30 business days, please advise our client department through the "Contact Us" tab and it will be a pleasure for us to help you out. 
Easy 30 Days Returns
100% Satisfaction Guarantee
Secured & Easy Checkout
Missing/Not As Described: Full Refund
Must Read Description Before Purchasing